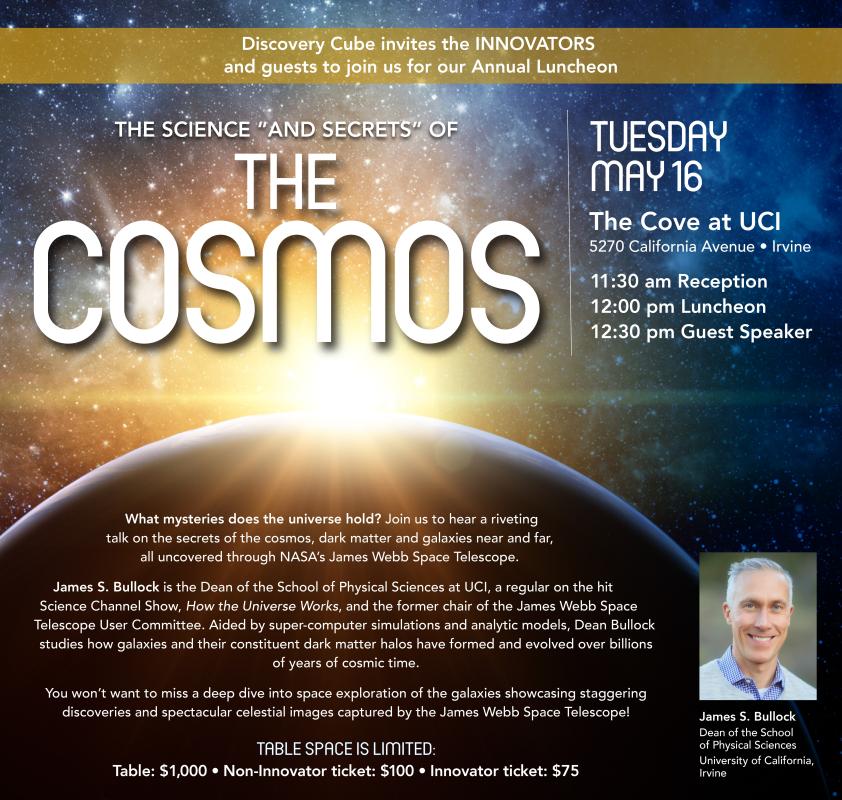 Date:
Tuesday, May 16, 2023
The Science "And Secrets" of the Cosmos
Tuesday, May 16, 2023 | 11:30 am | The Cove at UCI
Event Details
What mysteries does the universe hold? Join us to hear a riveting talk on the secrets of the cosmos, dark matter and galaxies near and far, all uncovered through NASA's James Webb Space Telescope.
You won't want to miss a deep dive into space exploration of the galaxies showcasing staggering discoveries and spectacular celestial images captured by the James Webb Space Telescope!
11:30 am Reception
12:00 pm Luncheon
12:30 pm Guest Speaker
TABLE SPACE IS LIMITED:
Table: $1,000 • Non-Innovator ticket: $100 • Innovator ticket: $75
About the Speaker
James S. Bullock is the Dean of the School of Physical Sciences at UCI, a regular on the hit Science Channel Show, How the Universe Works, and the former chair of the James Webb Space Telescope User Committee. Aided by super-computer simulations and analytic models, Dean Bullock studies how galaxies and their constituent dark matter halos have formed and evolved over billions of years of cosmic time.