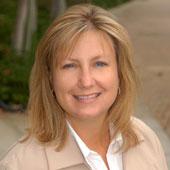 Maria Graziano
Assistant Dean, School of Physical Sciences
164 Rowland Hall
University of California Irvine Irvine, CA 92697
(949) 824-8488
mkg@uci.edu

As the Assistant Dean for the School of Physical Sciences, Maria serves as the senior administrative officer and chief of staff. An alumni of UCI, her professional career began over 27 years ago with a position within Student Affairs. Her next role in the Department of Physics and Astronomy helped set a course for the rest of her career which includes management roles in several academic departments within three UCI schools.

The scope of Maria's responsibilities includes planning, operations, and resource management for the instructional, research, and administrative functions of the School. She works directly with the Dean to define and prioritize specific needs related to the School's academic mission and to develop strategies to meet those needs. Further, she provides leadership for the management of all space, facilities, capital needs and human resources (academic and staff) and is responsible for the administrative integrity of the School.
For meetings please contact:

Donna Luebbe 

Executive Assistant
949-824-8844
dluebbe@uci.edu