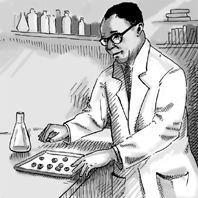 Date:
Wednesday, February 10, 2021
Sponsored / Hosted by
Professor Gregory Weiss
Percy Julian: Forgotten Genius - Special Screening
Wednesday, February 10, 2021 | 04:00 pm
Event Details
In celebration of Black History Month, please join the School of Physical Sciences for a special screening of "Percy Julian: Forgotten Genius" a biopic about a trailblazing Black scientist who earned a place in the parthenon of scientific greatness despite facing horrific racism throughout his life — including at prestigious academic institutions. Dr. Julian was the first Black chemist elected to the National Academy of Sciences (only the second African-American scientist to receive the honor), and was awarded >130 patents in chemistry. The first to synthesize the natural product physostigmine, Dr. Julian pioneered steroid syntheses, started companies, and was a true chemical innovator at industrial and lab scales.
Host: Professor Gregory Weiss will introduce and close the event. A panel discussion about Dr. Julian, his life, and his remarkable accomplishments is being planned for a future date.