Maya Silverman wins Women in Natural Sciences award
The award honors the graduate student's work to help others shine.
Monday, October 17, 2022
UCI Physical Sciences Communications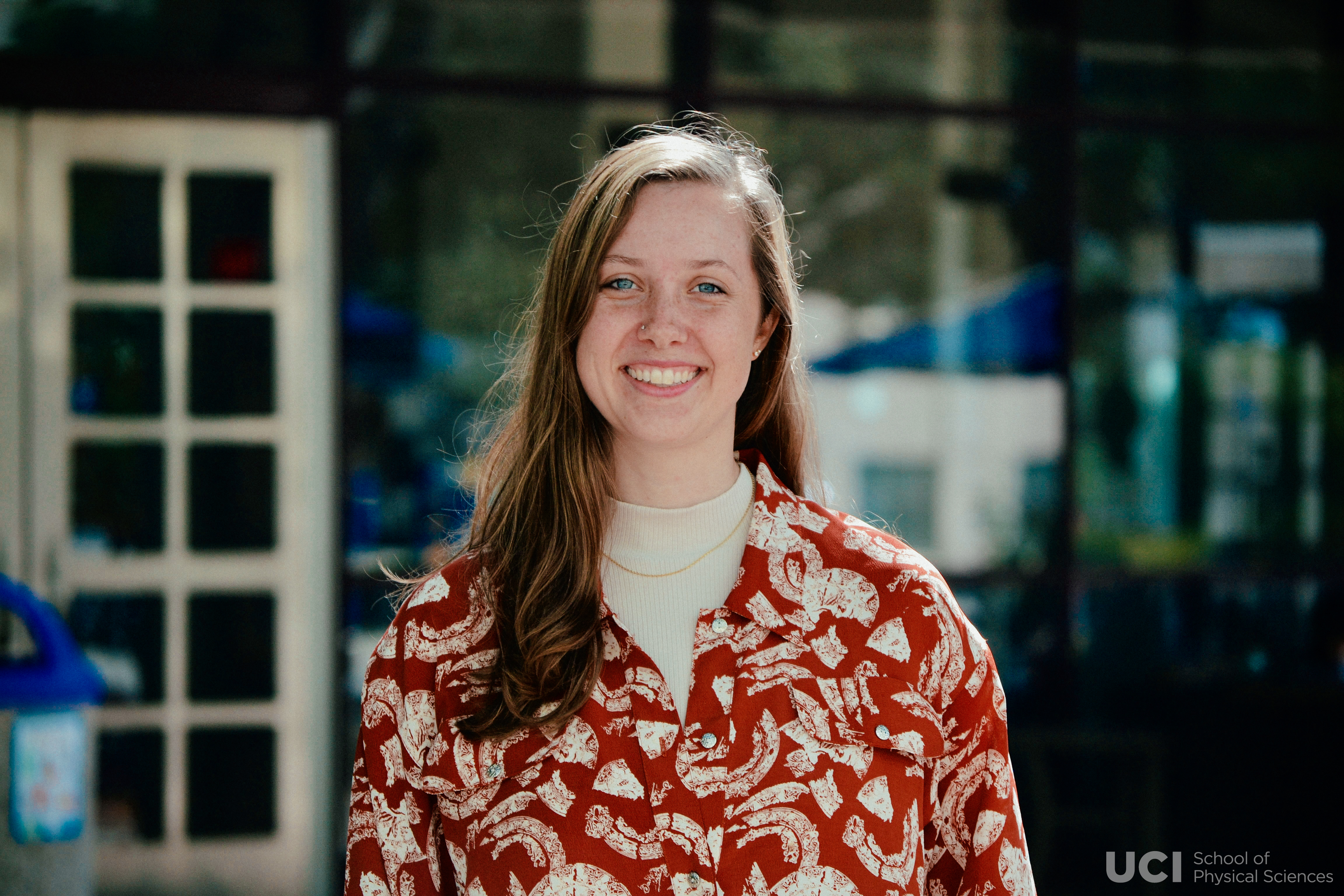 Picture Credit:
Hana Schiff / UCI
Maya Silverman is an astrophysicist and a Ph.D. student in the UCI Department of Physics & Astronomy who does research into the nature of dark matter – matter scientists think makes up most of the matter in the universe, but which they've never directly observed.
But dark matter isn't the only light in Silverman's constellation. Early on in her journey to the stars, Silverman felt isolated as one of the only women in her college classes during her undergraduate studies at UC Santa Cruz. It was then that she decided she would work to remove that barrier, both for herself and for future generations of physicists.
"I created a vision for my future self as an astrophysicist who works hard to change the climate in the field," said Silverman, who brought her vision to UC Irvine when she started here in 2019. "It's a privilege to do this work, and I recognize that I am able to do it in part because of the privilege that I hold as a white, cisgendered and abled person with two parents who attended college."
For her efforts in the realm of diversity, equity and inclusion, Silverman just received the School of Physical Sciences' Women in Natural Sciences award – an honor that aims to foster the next generation of women leaders in science.
In 2020, Silverman became the Program Administrator of the Rising Stargirls outreach program, which, created by UCI Department of Physics & Astronomy Professor Aomawa Shields, provides opportunities for middle school girls from underrepresented backgrounds to learn about physics and astronomy.
Using materials developed by Professor Shields, Silverman redesigned a program called "The Universe: More Than Meets the Eye," which allows students to engage with astronomy using theater, writing and the visual arts. This summer, Rising Stargirls ran their second virtual workshop with about 30 girls from across the country.
"I'm trying to put as much effort into initiatives like this as my research," said Silverman, who's also a leader in Physics & Astronomy programs like UNITY – short for Underrepresented Genders in Physics and Astronomy – which works to empower genders in physics that have been historically marginalized.
Silverman's also an active in her department's Committee on Inclusive Excellence, where until recently she was the only graduate student representative. She's a fellow of Physics & Astronomy Community Excellence (PACE), which works to ensure new graduate students in the department receive the kind of mentoring they need to flourish at UCI, and she regularly participates in workshops geared toward learning from other universities how to better augment DEI efforts in her department.
Silverman's path started when she was in high school, when a teacher named Dr. Paolo Carini helped her learn to ask a basic question about nature: Why?
If you ask "Why?" enough times, Silverman explained, you eventually reach questions that are the purview of physics, and, even more fundamentally, particle physics.
Silverman herself studies astro-particle physics as it relates to dark matter alongside UCI Professor Manoj Kaplinghat. Astrophysicists think that the gravitational effects of dark matter are responsible for holding galaxies like the Milky Way together, and dark matter, Silverman explained, exists around galaxies in the form of "halos" where the highest concentration of dark matter particles exist toward the center of a galaxy.
Silverman wants to learn about how dark matter particles act by looking at the Milky Way's dark matter halo and the dark matter halos of satellite galaxies that orbit around the Milky Way.
"I compare simulations to observations," Silverman said, with the aim of understanding how the interaction between dark matter particles may control how many dark matter halos and satellite galaxies exist around the Milky Way. She and Kaplinghat, alongside the dean of Physical Sciences, Professor James Bullock, just finished research detailing how dark matter particles interacting with one another may lead to dense cores in satellite galaxies through heat transfer from the hot, outer regions of halos to the cold, central regions. The work has been submitted for publication in the Monthly Notices of the Royal Astronomical Society.
"I'm so grateful to have received the Women in Natural Sciences award," said Silverman. "I think it's so meaningful that the School of Physical Sciences is recognizing the importance of graduate students' work creating diversity, equity and inclusivity within our fields. There are so many awesome students doing this work and I hope the school continues to recognize them and their work."