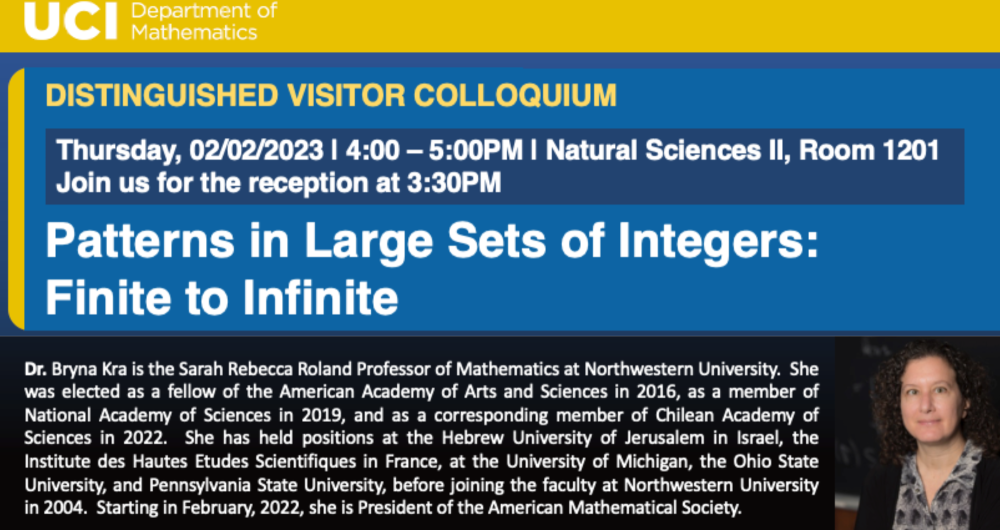 Date:
Thursday, February 02, 2023
Location
Natural Sciences II, Room 1201
Patterns in Large Sets of Integers: Finite to Infinite
Thursday, February 02, 2023 | 04:00 pm | Natural Sciences II, Room 1201
Event Details
Join us for the reception at 3:30PM
About the Speaker
Dr. Bryna Kra
Department of Mathematics
Northwestern University
Dr. Bryna Kra is the Sarah Rebecca Roland Professor of Mathematics at Northwestern University. She was elected as a fellow of the American Academy of Arts and Sciences in 2016, as a member of National Academy of Sciences in 2019, and as a corresponding member of Chilean Academy of Sciences in 2022. She has held positions at the Hebrew University of Jerusalem in Israel, the Institute des Hautes Etudes Scientifiques in France, at the University of Michigan, the Ohio State University, and Pennsylvania State University, before joining the faculty at Northwestern University in 2004. Starting in February, 2022, she is President of the American Mathematical Society.