Overview
This public lecture series - geared for a general audience, features scientific breakthroughs happening within the School of Physical Sciences' four departments: Chemistry, Earth System Science, Mathematics, and Physics and Astronomy.   
Professors are eager to speak to the general public or the media about their areas of expertise.  Please contact the Office of External Relations at (949) 824-0218 if you are interested in hosting a lecture for your company or organization, or if you have a press inquiry. 
Upcoming Lecture
** UC Irvine continues to take proactive measures to help protect the campus and the community. Therefore, campus leadership decided to postpone the Breakfast Lecture Series event featuring Jim Smith on March 24, 2020. Once we have information on a future date, we will be in touch. We thank you in advance for your support and understanding. **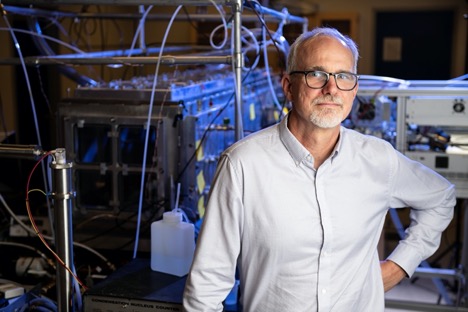 Ultrafine Aerosols: The Good, the Bad, and the Mysterious
Jim Smith, Department of Chemistry
March 24, 2020 I UCI Student Center, Pacific Ballroom D
Breakfast 7:30 am I Lecture 8:00 am - 9:00 am
Ultrafine aerosols are nanometer-sized particles suspended in air. While they comprise a miniscule fraction of the mass of all airborne particles, they play an oversized role in human health and the Earth's climate that is sometimes good, sometimes bad, and at times completely mysterious. I have traveled the world and created "atmospheres in a can" in my lab in order to shed light on these impacts. My main tool is the TDCIMS – an instrument that can obtain the "fingerprint" of the chemicals present in ultrafine particles. In this talk, I will share what TDCIMS measurements tell us about the good role that ultrafine particles play in the Earth's climate system, the bad effects of ultrafine particles when they are inhaled from hookah pipes, and the mysterious appearance of nanometer-sized "fungal shrapnel" in the Great Plains of Oklahoma.
Parking for this event is available for $10 at the Student Center Parking Structure located on the corner of Pereira Dr. and West Peltason. 
The Physical Sciences Breakfast Lecture Series is free and open to the public. For media inquiries, please contact Tatiana Arizaga at tarizaga@uci.edu.