Visiting Irvine
Please see our list of past visitors.
UC Irvine is located in Orange County, California. You can find driving directions and freeway maps at the UCI campus maps page. We are 4 miles from John Wayne Airport (SNA) and 42 miles from Los Angeles International Airport (LAX).
The UCI Physics department visitor webpage has additional information, maps, and photos to help you find your way.
The particle theory group is located on the third floor of Frederick Reines Hall (FRH, map of offices). It is a 15-minute walk from the Student Center which is where hotel shuttles drop off and pick up guests. Below is a `simplified map' of the campus.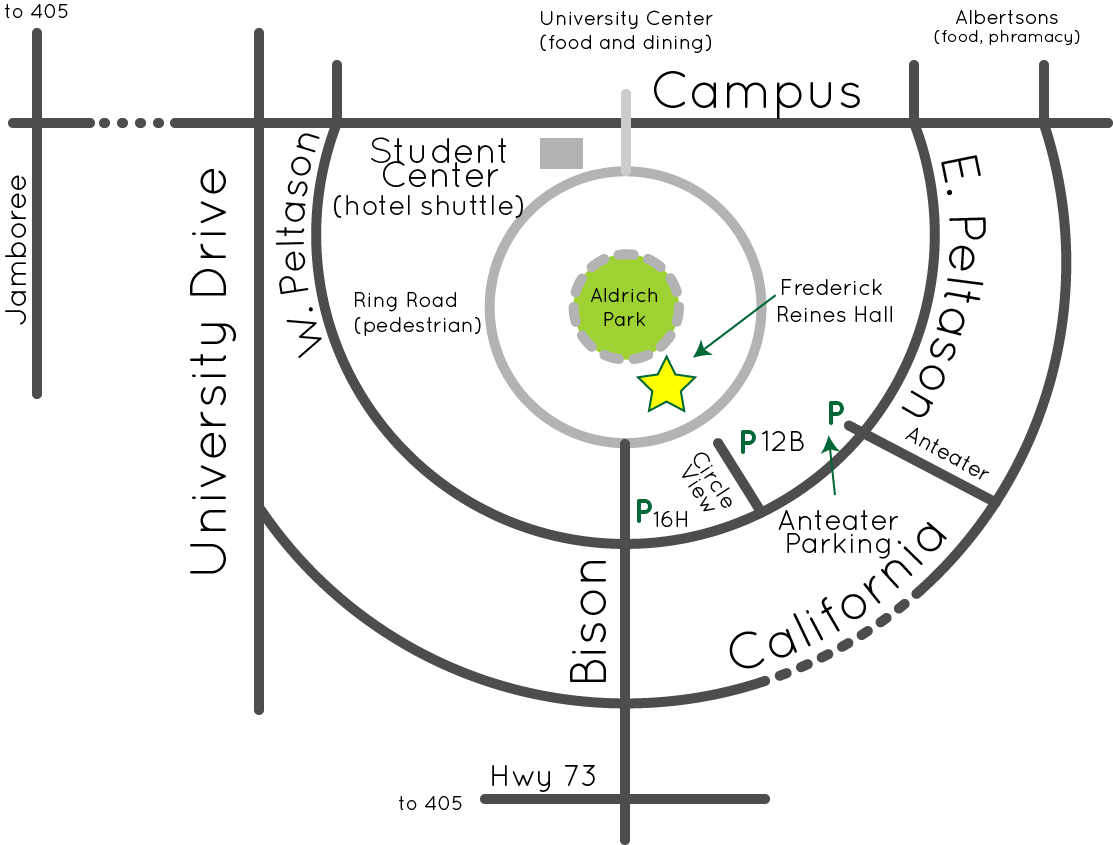 Parking
The closest parking is in Lot 12A, which is between Lot 16H and Frederick Reines Hall. The entrance is on Bison Avenue. For more information, see the UCI Transportation page.
Seminar Speakers
Planning your visit
The closest airport is John Wayne Airport (SNA), though visitors from outside of California might find it easier to fly to LAX---please make arrangements to drive to Irvine, 42 miles south on the 405. Let us know ahead of time if you will require a parking permit; we will reserve one in your name at the Anteater parking lot located on E. Peltason and Anteater.
Seminar speakers may also be interested in visiting other nearby particle physics groups. The Caltech (Mon), UCI (Wed), and UC Riverside (Fri) seminars are a popular `Southern California HEP tour.'
Hotel reservations
Due to UCI policy, we ask all seminar speakers to reserve a hotel themselves. You will be reimbursed by the group. Past visitors have had good experiences with the following hotels, please be sure to ask for the UCI rate when making a reservation---you can request this in the comments box of the online reservation forms:
Both hotels have shuttles to UCI and the airport. Upon your arrival to the department, your host will provide you with
reimbursement information
and access to the visitor office.
Seminar information
Please e-mail our seminar organizer, Julian Heeck (), with the following information as soon as it is available so that we may advertise your talk:
Title and abstract for your talk.
Your homepage and/or a photo of yourself for the seminar flyer.
Seminar guidelines
Our 11am Wednesday joint particle seminars are primarily particle theory talks though we regularly have particle experimentalists and astro/cosmo physicists attending. For special circumstances we may occasionally arrange for a special seminar on Friday at 3pm in place of our internal journal club.
We suggest that talks are prepared with dark text on a light background since the seminar room will not be "movie theater" dark. Remember to bring a power adapter and all necessary equipment to connect to a VGA projector. Please aim for a talk length of one hour, allowing some time for questions. Let us know ahead of time if you will be giving a chalkboard/whiteboard talk.
If you are willing to have a copy of your talk posted online, please e-mail a pdf to Julian Heeck ().
Reimbursement Form
Please do not forget to (1) return your visitor office key before leaving and (2) fill and mail your reimbursement form after completing your trip.
In case we forgot to provide you with a printed version of our reimbursement form, here is a link to our reimbursement form, (with unnecessary fields masked out with Preview, should still display ok in Adobe Reader). Because UCI requests sensitive information (such as visas and I94 forms for foreign visitors) to process the reimbursements, we request that visitors email the filled form directly to Aries Magana ().
Connectivty and Wi-Fi
If you are registered with eduroam, it should work out of the box. You can log onto the UCI Mobile Wireless network to set up visitor access to the UCI Wi-Fi network. For longer term visitors, please see your host to be sponsored on the network. Once you are registered, you may log onto HEP Wireless while on the 3rd floor of FRH to access printers; see your host for more information.
Long Term Visitors
Please contact us if you are interested in spending a sabbatical (or other long term visit) at UCI.
Nearby amenities
There is a small shop that sells espresso and sandwiches just outside FRH that is open during regular business hours. Restrooms are located near near the center of the building by the elevators.
One can find UCI souvenirs at the campus bookstore (The Hill) located in the Student Center. Also located at the Student center is the Anthill Pub (serving alcohol and bar food until the late evening), a convenience store, and the Zot Zone game room. University Center is a short walk across a pedestrian bridge near the Student Center and has a range of restaurants and cafes that are popular among students. For information about UCI events, see the ticket office page.
The nearest gas station is at the northeast corner of Campus and California. This is across the street from Albertsons, a supermarket and pharmacy that is open until midnight.
UCI is driving distance from several beaches and Disneyland.