Current Infection Status:
Updated: 

May 11, 2021
Orange County:  Orange County remains in the Orange Tier (Tier 3) which affords opportunities for indoor dining and the opening of gyms and movie theatres – all at higher person density that previously.  It is poised to enter the yellow tier (Tier 4 – the most permissive tier) within a week or so.  A true victor for the County.
This reflects further improvements in all metrics relating to COVID in Orange County:
UC Irvine Campus:  Confirmed cases at UCI peaked Jan. 9 for both faculty and students (36 faculty; 69 students that week).  Presently (week of 5/10/21), there are no active cases amongst students and none amongst faculty or staff.  Based upon testing on campus, student positivity is now at a very low 0.00%.
See: https://uci.edu/coronavirus/dashboard/index.php
UC-wide Guidance on the Vaccine Mandate: 
Based upon a policy announcement on April 22, 2021, the University of California has announced that, effective at the beginning of Fall Quarter 2021, fall term, "all personnel, trainees and students accessing university facilities and programs in person would be required to be immunized against SARS-CoV-2, the virus that causes COVID-19."  For more information, see the following Draft of this policy (still in revision).
https://universityofcalifornia.edu/sites/default/files/review-draft-sars-cov-2-vaccination-program-participation-policy-04212021.pdf
New Campus Guidance on Gatherings: 
Chancellor Gillman has issued a Directive April 2, 2021 providing updated guidance on gatherings involving 2 or more individuals not from the same household.  This information is available here:  https://uci.edu/coronavirus/executive-directives/executive-directive-gatherings.pdf 
Message from the Provost Stern Concerning Phased Transition Back to Campus: 
This message contains a lot of information pertaining to the logistics of instruction in Fall Quarter 2021.  "The transition back to campus will be managed in phases starting July 1, with a plan to be fully operational in-person by September 1". "…teaching will primarily be delivered through in-person instruction in campus classrooms, although some instructors will offer hybrid, remote, and online options as appropriate and approved."
A complete copy of Provost Stern's statement is available here:  https://provost.uci.edu/2021/04/19/phased-transition-back-to-campus/ 
Phase 3 Research:
Phase 3 Research commenced on Monday, April 5.   Phase 3 provides an opportunity for every scientist, graduate student, and research staff member, to return to the campus and resume their research activities.  Some visitors will also be accommodated.  More information is available here:  https://news.research.uci.edu.
 
But, Phase 3 does not mandate that you return to campus.  And you are welcome – even encouraged - to continue to work from home if you wish.  
Phase 3 does all of the following:

Opens the Campus for all research activities, including those that were not permitted, or discouraged, in Phase 2 such as research activities in the areas of theory and computation.  

Allows a return of faculty and staff to their on-campus offices.

Eliminates the requirement for 30% occupation of research laboratories, relative to pre-pandemic levels.  A 250 sq. ft. metric per researcher is also gone.

Establishes a simple 6 ft spacing requirement for coworkers in our offices and laboratories.


 

Phase 3 does

NOT

do the following:

It does not loosen requirements for physical distancing, frequent hand-washing,

and masking

,

irrespective of your vaccine status, or the vaccine status of someone you may be speaking with

.  Masks are always required on campus, except when you are occupying a private office.


 

Applications for Phase 3 Research approval can be submitted by PIs or by Facility Managers.  But

do you need to apply for admission to Phase 3 Research

?

YES - if you didn't participate in Phase 2 Research and want to participate in Phase 3 Research with your coworkers.

YES - if you have an approved Phase 2 Research Plan, and want to increase the number of coworkers present, at any one time, in any of your laboratories or offices.

YES - if you are moving to new space (e.g., ISEB) after April 5, 2021.

NO - if you simply wish to once again occupy your faculty or research staff office.

NO - if you have an approved Phase 2 Research Plan that you will continue to follow during Phase 3.
A Phase 3 Research application is available HERE.  Please follow instructions in this form.
COVID Case Scenarios: What to do...
If you have COVID symptoms: Report here. Monitor symptoms and go to Student Health (if you are a student), or Gottschaulk, (if you are a faculty member or visitor) in case of difficulty breathing or a persistent elevated temperature that is unresponsive to NSAIDs. Call ahead in all cases. 
If someone in your research group has symptoms on campus: For students, postdocs, undergraduates, or visitors working in shared office or laboratory spaces, the procedures depicted in this graphic should be followed: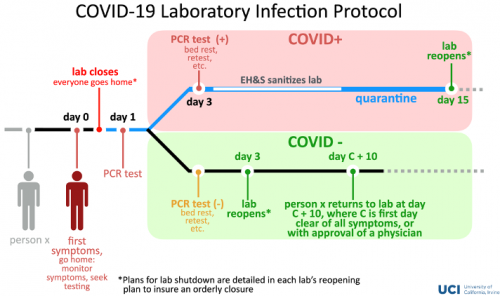 The key directives are the following:
If a student working with others in a laboratory or a shared office space become symptomatic, everyone working in that space goes home until the symptomatic person is tested. 
A negative test (green track) means that everyone can resume activity in the lab or office.  The symptomatic person is not permitted to return until they are days beyond the day (Day C) they are clear of all symptoms.
A positive test means that everyone quarantines for 14 days.Please be advised that this has remained the preferred protocol of CDC. CDC has also suggested shorter quarantines associated with higher risk when 14 days is impossible or impractical. See: https://www.cdc.gov/coronavirus/2019-ncov/if-you-are-sick/quarantine.html
Travel and COVID
UCI travel policies are located here (PDF): https://uci.edu/coronavirus/executive-directives/UCI20_UCI_TravelDirective_08-17-20.docx.pdf
COVID Testing
Asymptomatic students working campus are required to test weekly.  Faculty may be recommended for weekly symptomatic testing.  If you are symptomatic, either Student Health Center or Gottschaulk can arrange testing for you.  See:  https://uci.edu/coronavirus/testing-response/testing.php
COVID Vaccine
UCI is back in the vaccine business, administering both J&J and Pfizer vaccines at the Bren Events Center to those who have registered with the Campus as a Phase 2 Researcher.  See: https://vaccine.ucihealth.org.  We hope that new information relating to extending this program to all Phase 3 researchers will be forthcoming soon.
A comprehensive list of vaccination distribution options in Orange County are available here: https://occovid19.ochealthinfo.com/covid-19-vaccine-distribution-channels