Current Infection Status:
Updated: 

March 2, 2021
Orange County: In early March, we continue to see improvements in all metrics relating to COVID in Orange County. Daily cases (277/day, down from 3523/day (7-day ave) on Jan. 8). PCR positivity (3.8% down from 11.6% Feb 1). ICU bed availability up (now 31% up from 0% Feb.). For the time being however, OC remains in the most restrictive Purple Tier. See: https://occovid19.ochealthinfo.com/coronavirus-in-oc. Also, https://www.stat.uci.edu/covid19/index.html
UC Irvine Campus: Confirmed cases at UCI peaked Jan. 9 for both faculty and students. They are now down for seven consecutive weeks.
See: https://uci.edu/coronavirus/dashboard/index.php
COVID Case Scenarios: What to do...
If you have COVID symptoms: Report here. Monitor symptoms and go to Student Health (if you are a student).  Employees who are experiencing symptoms should contact their primary healthcare provider, or connect to the UCI COVID hotline at x9918 for advice.
If someone in your research group has symptoms on campus: For students, postdocs, undergraduates, or visitors working in shared office or laboratory spaces, the procedures depicted in this graphic should be followed: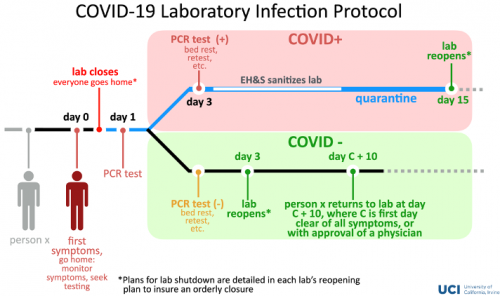 The key directives are the following:
If a student working with others in a laboratory or a shared office space become symptomatic, everyone working in that space goes home until the symptomatic person is tested. 
A negative test (green track) means that everyone can resume activity in the lab or office.  The symptomatic person is not permitted to return until they are days beyond the day (Day C) they are clear of all symptoms.
A positive test means that everyone quarantines for 14 days.Please be advised that this has remained the preferred protocol of CDC. CDC has also suggested shorter quarantines associated with higher risk when 14 days is impossible or impractical. See: https://www.cdc.gov/coronavirus/2019-ncov/if-you-are-sick/quarantine.html
COVID Vaccine
I want a vaccine. See campus vaccine website

UCI is administering vaccine on the UCI campus in compliance with Orange County Public Health guidelines.  See: https://occovid19.ochealthinfo.com/covid-19-vaccination-distribution. On Jan. 11, the first vaccines were administered in the Bren Events Center on the UCI campus for faculty and staff age 65 or older. 
As of March 2, we have no new information regarding the availability of vaccinations for UCI students, staff, and faculty, younger than 65 years of age. See: https://vaccine.ucihealth.org.
Now that we are in Phase 1B, our Campus leadership has been encouraging everyone affiliated with UCI to look broadly at the available options, including: Walgreens, CVS, and Othena
 
Anecdotally, a number of colleagues and students in the School have been successful with both Othena and Walgreens.
Travel and COVID
UCI travel policies are located here (PDF): https://uci.edu/coronavirus/executive-directives/UCI20_UCI_TravelDirective_08-17-20.docx.pdf
COVID Testing
Asymptomatic students working on campus are required to test weekly.  On-site employees have been identified by their supervisors for asymptomatic testing.  Those who are eligible are invited by email directly.  If you are symptomatic, please connect with the Student Health Center (for students) or primary healthcare provider, or connect to the UCI COVID hotline at x9918 for advice.