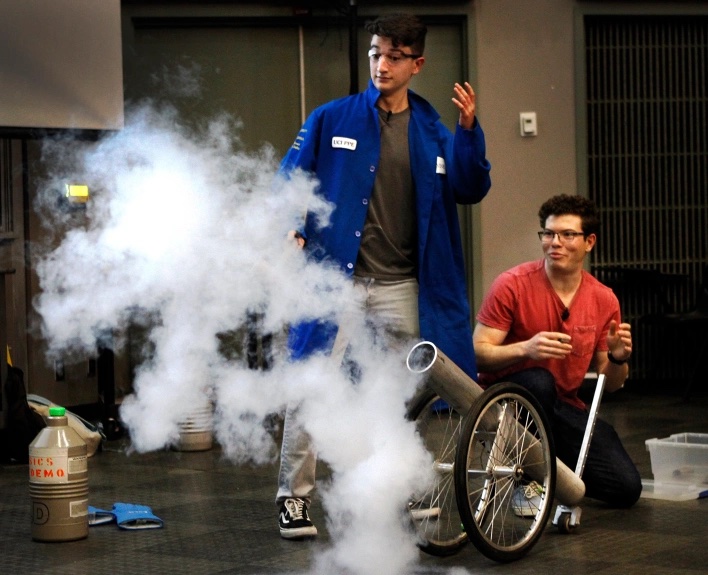 Date:
Saturday, February 11, 2023
Location
Physical Sciences Lecture Hall
Sponsored / Hosted by
School of Physical Sciences
Saturday, February 11, 2023 | 12:00 pm | Physical Sciences Lecture Hall
Event Details
The Adventures in Physics program provides engaging demonstrations of physics at elementary school assemblies in the Orange County area. It also hosts an annual public event at UCI for the entire community. Join us on February 11, 2023!
About the Speaker
Electricity I 12:00 p.m
Professor Bill Heidbrink and his team will kick off the event with a lively show demonstrating concepts of electricity. Learn about voltage, current and resistance. Watch the jumping ring and the can crusher, and participate in educational hands-on activities.
Two-Dimensional Materials I 1:00 p.m
Professor Javier Sanchez-Yamagishi will present Quantum Electronics. Learn how he gets electrons to behave in funky ways to invent new quantum electronic devices that could appear in your future smartphone or medical device.
Q&A with UCI Students I 2:00 p.m.
Following the demonstrations and lecture, UCI students will host a Q&A session about life in college.
Parking will be available in Lot 16 for $13. See flyer of the event here. For questions, please contact physicalsciences@uci.edu.
This event honors the legacy of John Rosendahl, Instructional Programs Director in the Department of Physics & Astronomy from 1987 – 2012. He created memorable lecture demonstrations that were seen by more than 50,000 students, and conducted physics assemblies for K-12 schools.